Table of Contents
Commodore Vegas Expo - July 2006
Images & Highlights
Note: It's been over a year since these pictures were taken but I'll try my best to recount Commvex 2006.
We (Robert Bernardo, my wife, Diane and I) make the trek to Vegas early in the week to get there with plenty of time to prepare. The trip this year as a lot more rain along the way. [1],
One of the landmarks on our route is the Rock-a-Hoola water park [2], which is an abandoned water park along I-15 to Vegas (thinking of Scooby Doo when I say that). After we return I checked on it and discover it may well be the first Waterpark, which opened back in 1962. Even though it's been closed for several years the lake and grounds look in good shape. (I suggest to Robert that would be a good CommVex Venue, he doesn't think so, no airports nearby.).
p>Even though it was cloudy and windy it was still over 100 when we stopped in Baker [3] to get refreshed as well as gawk at the worlds biggest thermometer (that's what they call it).
As with last year our arrival is in the late evening to the thrifty Nevada Palace Casino and Motel [4] its quite a way from the Plaza and the strip, but with the fast freeways the commute is not that long. While not much frills the air conditioning works fine and it does have a pool [5] which Diane uses while we do our errands.
The first few days prove that it isn't going to be a cool time in Vegas, as the temperatures were climbing above 100, though that year the temperatures were about the same for central California where we came from. A necessary stop for Robert is Las Vegas Library [6] to get on-line to check his email contacts and post about the progress of CommVex. Diane uses the opportunity to check out what craft books the well stocked library has. Yes visitors to Vegas can get a library card and check out books during their visit.
A couple days before the show we go to the Plaza and checkout the new CommVex venue, now at the Plaza Hotel, at 1 Main Street, in old Las Vegas [7], the room you see here was originally going to be the CommVex location but after talking with Robert, the hospitality manager (Ruthie?, pictured) switched us to a room closer to the main corridor. Which was a much more visible location.
[7]
CommVEx 2 Begins!
See a video pan of CommVEx 2006! (618KB MPEG Video)
Friday night, seems to be the informal CommVex start as many of the CommVExers show up either to help or to see who else has arrived. In this photo [8] we have Dick Estel, Bo Zimmerman and I think Glenn Holmer (getting an early preview of the Commodore alumni video) and Yul Haassmann and family (Yul bought a new TV and brought it for display during CommVEx before taking it home. Along with his musical keyboard and MIDI interfaces he had a lot of cool toys there.
On Saturday, the attendees started filing in with Eric Kudzin signing up here [9], attendees got a nice little box filled with some m&m's and a commemorative card, as well as a chance at one of the many door prizes. Also in the picture you can see Robert's Drean 64 and the European C64 Game System (they weren't being raffled off, sorry).
First off was the Commodore 2006 User Group Video which gets a good audience [10], [11] and had on Bob Russell who was instrumental in a lot of the Commodore 8-BIT computers software. [12] Some of the door prizes and raffle prizes, including some copies of Brian Bagnalls On the Edge Commodore Book
There were many presentations in the two days, Rolf Miller [13] gave us a updated talk on doing transfers and conversions with Star Commander and Busy Bee Writer (he also had a lot of goodies for sale at his vendor's booth. One that was both interesting and somewhat depressing was the Commodore(Amiga) Deathbed Vigil video [14] (excerpt here), a video record of the last days of Commodore back in 1994. That was a doorprize later (which I won).
Jeri Ellsworth was there in skates [15] both attending CommVEx and checking out the Rollercon rollerderby convention next door. Her talk was about some of the projects she is currently working on, not much for the 64 at present, though she had been playing with mpeg decoding which could work on a 64. One note, the mini-arcade game that was for sale at Target was designed by her (the computer hardware, not the cabinet, monitor, or joystick). Saturday evening many CommVExers went off to watch a Rollercon derby event going on somewhere in mid-town.
[15]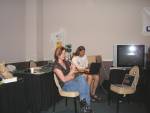 Yul Haassmann didn't have enough ready to do a MIDI Demo this year, but was there showing it off [16] to those interested, and at one point played a couple tunes on his keyboard.
[16]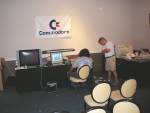 Glenn Holmer [17] showed off the amazing tiny prophet 64 synthesizer board on a cartridge (emulates a control board) along with his 2nd SID circuit that came with it. It was nice to see music presentations.
[17]
Dick Estel [18] busy working up his VICE presentation, as Bo Zimmerman plays Cosmic Cruncher (the VIC was a popular machine at CommVEx) and in the back Earl Williams from Colorado was selling the CommVEx 2006 tee shirts (fortunately this year he didn't suffer any injuries). Then later here is Dick showing off what the VICE emulator can do.[19]
I didn't get a picture of my presentation on Flash Attack for the 64, except this one [20] where you can see the two 64s (on either side of the raffle program) displaying the end of game maps (yes, two Commodore 64s were playing the same game). Robert also bright some Amiga hardware - an Amiga 1200 tower conversion, a A500 [21] and a CD32, unfortunately the 1200 was having start-up problems this time (happens to the best of us).
The final raffle/doorprize draw of CommVEx 2006 [22] and at the end, Diane wanted a comparison shot of hair length with fellow attendee Eric Kudzin [23]. The next day as we left I asked for Roberts opinion on the Plaza and CommVEx 2, and as you can see it was an enthusiastic "thumb's up!" [24]
Some 2006 Pics of Las Vegas
Of Course with all those extra days and being as we are veterans to setting up CommVEx we had a little bit more time this year to look around between errands.
One of the regular stops for Robert (a Classic Star Trek fan, though we are too) is the Las Vegas Hilton Home of the Star Trek Experience. [25] Though we only oggled the entrance and checked out the gift shop this trip, it certainly was worth the time to look. We even found a friend [26]. Though I think this lady wanted to get her mits on Robert [27].
As a side note only in Vegas would you see an iPod Vending Machine [28].
Diane's stop was the Luxor Pyramid [29], in daylight it is still impressive as are the sphinx in the front and other Egyptian themed facades. I particularly liked the tongue-in-cheek relief above the (impressive) arcade [30] which reminds me of Johnny Sokko and His Flying Robot.
Next to the Nevada Palace is Sam's Town [31] (see that big eletric billboard, those things are everywhere it's like driving around a whole bunch of TVs playing commercials all the time, especially at night). Anyway, Inside Sam's Town there is a real nice movie theater as well as a massive atrium [32] filled with an artificial forest scene complete with waterfall [33] and river, and robotic wildlife. Reminded me a lot of Yosemite Valley kind of tranquil for being in the middle of a casino in a desert.
The last night we moved over to the Plaza Hotel The plaza has a rooftop (lower roof) pool and tennis court [35]. Looks like fun - you can also see the entrance to the Fremont Street Experience from the view of our room. Here is from inside the Fremont Street Experience [34] I didn't see it in its brilliance when the whole canopy lights up but even in the daylight it is impressive. Lots of smaller casinos as well as discount gift shops. Nice place.
On the trip back we did one more stop at Baker, to Alien Fresh Jerky [36] which has a wide variety of Jerkymeats (no alien meat from what I could see) as well as a wide range of honeys. The Alien kitsch is ami\using to look at as well. Last photo is I believe of a borax processing plant [37] (looks like something out of Aliens or Star Trek) also along I-15 back to Bakersfield